Kevin Hamilton is a recurring character and the father of Jenna Hamilton, and the husband of Lacey Hamilton. A lot like Lacey, he tries to act more like Jenna's friend rather than her father. But, unlike Lacey, he has shown to be slightly more responsible.
He is also shown to be good friends with Matty McKibben.
Biography
Kevin Hamilton is Jenna's father. He is the more responsible parent compared with Jenna's mother, although he still partakes in doing drugs with Lacey in The Scarlet Eye. When he was with Lacey in high school, they would always have sex, like Matty and Jenna, eventually Kevin got Lacey pregnant when they were 17. During the second season he leaves Lacey after finding out it was her that wrote the care-frontation letter. However, later in the season they rekindle their relationship. He and Lacey meets Matty's parents, but the dinner goes wrong after the McKibbens find out Lacey gave Jenna birth control pills and Kevin bought Matty condoms.
Personality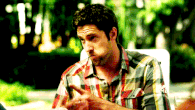 Outgoing, funny and embarrasing, Jenna's father is one of the many things that put her in awkward situations.
Physical Appearance
Physically, he is handsome, and is usually admirred by other female characters like Valerie Marks. He has a tanned complexion, sandy-light brown hair and blue eyes.
Relationships
Lacey Hamilton -Wife
Trivia
Despite being present for 4 seasons he is still considered a recurring character.
He, along with Lacey, Valerie and Sadie, are one of the many people that put Jenna in awkward and embarrassing situations.