Matthew McKibben is a main character and male lead of the MTV series Awkward. He is one of the most popular boys at Palos Hills High School and the best friend of Jake Rosati.
He lives in Palos Hills, with his adoptive parents, whom he has a terrible relationship with and also his alcoholic older brother James McKibben. He also has a very complicated on-and-off romantic relationship with Jenna Hamilton, until she cheated on him with Collin Jennings. They started having a friends with benefits, but Jenna called it off, after realizing that he is hiding her again.
He is very close friends with Sadie Saxton, whom previously had a crush on him, but their friendship slightly worsened during his relationship with Eva, whose real name is actually Amber. They are now very close friends again..
As of Season 4, he has been more reckless and daring, just to spite his adoptive parents because of the secret they've been keeping from him (his adoption). Amber has also been a bad influence on him, by manipulating his friendships with Jenna and Sadie.
Matty is an adopted member of the McKibben Family and a member of the Titans Athletes.
He is played by American-born Canadian actor Beau Mirchoff.
Background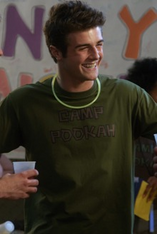 Not much is known about Matty other than he was adopted by
Mr.
and
Mrs. McKibben
at an early age, leaving his biological family unknown. He is also the younger brother of
James McKibben
, who is an alcoholic and has been to rehab. He has also been best friends with
Jake Rosati
 and 
Sadie Saxton
since childhood and also used to collect
Teenage Mutant Ninja Turtles'
action figures, like
Jenna Hamilton
. He became popular because of his athletic skills.
Before the beginning of the series, during summer camp he took Jenna's virginity in a supply closet, although after they had sex, he told her that they should keep their relationship a secret, which slightly angers Jenna.
Season 1
Jenna is upset when she catches Matty making fun of her boobs when nude photos of her breasts were all over the walls of school. Matty eventually takes all the pictures down at their school and explain that he wasn't insulting her, and was only trying to deflect the attention from her boobs. Jenna realizes that Matty was trying to be her hero after seeing her post and it ends with them kissing.
Matty invites Jenna to an 'in-crowd' party. Jenna is heartbroken when she sees Matty making out with another girl in the hot tub. Matty stops the girl immediately and asks her to stay away when she offers to take it upstairs, but sadly Jenna has already left.
Matty makes out with Jenna behind the dumpster at Bonfire night, and tells her that she's a good kisser, funny, and beautiful. When Jenna asks if they're a couple, he tells Jenna that he likes her a lot, but he's not ready to be in a relationship.
Jenna feels upset when she sees a girl, Oliva, coming out of Matty's truck, leading her to think that when Matty said he wasn't ready, he meant with a dork like Jenna. Matty later reveals that Olivia is actually his girlfriend-in-law. Jake impulsively kisses Jenna.
Matty is the drink-server in the knick-knacker intake gathering. Jake tells Matty that he kissed Jenna and might be a bit into her. Matty tries to convince Jake that he should let go. Jake realizes how much he is into Jenna after talking to Matty and decides to talk to her about it. When Jake texts Jenna so that they can talk, Matty pulls out his phone to ask Jenna if they can meet tonight. Jenna decides not to let Matty have all the power in the relationship. Matty is upset and disappointed when she has replied to Jake's message but not his.
Jenna and Jake get cast in a mock DUI event held at school. Jenna is trying to play hard-to-get, which seems to be working. Jenna gets cast as Dead Stacey, the character that her mother played in 1995. Jenna runs to Matty's house when she received his message, they kiss passionately but are interrupted when Matty's drunk brother appears. Jenna is disappointed when Matty didn't introduce her to his brother when he saw them kissing and asked her to leave. The next day when Matty apologizes, Jenna gets angry and tells him that she's tired of being his secret. Jake confesses to Jenna that he has feelings for her.
The Adventures of Aunt Ally and the Lil' Bitch
Jenna hosted a party with her mom and her mom's best friend Ally to try to impress Matty. In the party, Jenna hurts Matty's feeling when she says he thinks he's better than her and is embarrassed to be seen with her. On her birthday, Matty gives her a ride home after the football game. On the ride they makeup and become friends again. But later at night he arrives to her room and confesses that he wants to be more than friends with her.
Matty brings Jenna to his family-restaurant, and it is revealed that she is the first girl that he has gone on a date with and thus the two begin a short-lived relationship. Jenna's friends are charmed by him and it is confirmed that Matty did not write the carefrontation letter.
Matty asks Jenna what color dress she will be wearing to the formal dance. Later, still not asking her to the dance, he asks her if she is a limo girl or not. Jake asks Jenna to the dance by giving her a CD, which has "Will you go to formal with me?" printed on it. She tells him that she already has a date. Jake tells Matty about being turned down by Jenna. He asks Jenna if it's okay for them to skip Formal since he doesn't want to hurt Jake, but he doesn't tell Jenna that. Jenna decides that she deserves more, and goes to Formal with Jake.
In last episode, Jenna agrees to go to the Formal with Jake, with Ming and Tamara tagging along. Matty decides that he won't give up on Jenna and goes to her house, only to find that Jenna has already left for the Formal. Jake and Jenna have a good time at the Formal, and Jenna decides that maybe Jake is the one for her and they kiss, but then Matty shows up. Jenna takes Jake's hand and realizes that that's what she wants, and tells Matty that she's very sorry, but she thinks it is too late.
Season 2
In the second season, Matty tells Jenna that he wants a second chance in the new year party, and asks her to meet him at midnight. Jenna chooses Jake and shares a kiss with him. Matty is upset and makes out with Sadie, however he falls asleep when he takes his shirt off. Later at night, Jake sees the condoms her dad gave her in which she reveals to him that she is not a virgin, leading to Jake becoming jealous.
The school year is back and the Sanctuary has a video camera put in tapping all the action that has happened. Jenna and Matty debate if they should tell Jake about their secret relationship. Jake tells Matty that Jenna was in love with the other guy that she slept with. Matty immediately rushes to Jenna and confesses that he loves her. But Jenna says she really likes Jake since he is not embarrassed to be seen with her and never makes her feel bad about herself. Matty is really upset and apologizes to Jenna. Meanwhile, Jenna pressures her mom into telling her dad about writing the letter.
Jenna and Jake's relationship is going steady but Matty keeps tagging along and trying to tempt and seduce Jenna with his 'unintentional touching' and nuding up every chance he gets. Jenna and Matty get into an argument where Matty denies luring her and saying that Jenna is too clingy. Later Jenna apologizes for accusing Matty of seducing her and they make up. When Jenna walks off, Sadie tells Matty that she knows he is sabotaging them. Matty looks back and smiles, revealing that he really was trying to sabotage Jenna and Jake's relationship from Sadie and Matty's conversation.
Are You There God? It's Me, Jenna
Jenna upsets Jake by saying 'awesome' back when he told her 'I love you'. Since Jenna knew she was in love with Matty after having sex with him, she considers sleeping with him to clarify her feelings for Jake. However she accidentally hits the PA system which ends up telling the whole school.
In Valentine's Day, Jenna and Jake bumps into Matty and his date, Courtney. Jenna is upset by the fact that Matty is going out with Courtney publicly. Jake feels bad when Matty knows what Jenna's allergic to but he doesn't.
What Comes First: Sex Or Love?
In Aunt Ally's wedding, Sadie reveals to Jake about Jenna and Matty's secret relationship. At the same time, Jenna left a message telling him that she's finally ready and she loves him. Jake gets upset and breaks up with Jenna saying that their timing isn't right. He refuses to talk to both Matty and Jenna. Matty and Courtney are making out but Matty stops Courtney, telling her that he can't focus and needs to take care of his friend. Jake listens to the voice mail of Jenny and regrets breaking up with her. Matty then shows up at Jenna's house to comfort her, where they confess their love for each other, and Matty says the timing might finally be right for them. They end up kissing while Jake watches behind the backdoor in horror.
Jenna tries to fix things with Jake but he is convinced that she is a cheater, with a photo of Jenna and Matty making out last night. Jake and Matty get into a fist fight over Jenna during a pep rally. Matty took 3 punches before punching Jake back, admitting that he was in a relationship with Jenna. Jake and Matty later make up and decide not to let a girl go between them. Jake and Matty demand answer from Jenna on who she's going to pick.
At last Jenna picks Matty, who tells Jake about their relationship. The three become friends again. Jenna decides whether she should go to Europe or stay with Matty during Summer.
Season 3
3A
In the first episode it is revealed that Jenna has a Pregnancy Scare in the beginning of Season 3, and does not tell Matty. After Ricky Schwartz dies, Matty feels like life is too short, and wants to be as intimate with Jenna as possible, not knowing that Jenna had a pregnancy scare. Matty gets a tattoo saying 'Jenna 4eva' to prove his love for Jenna. During the party for Ricky Schwartz, Jenna tells Jake about the pregnancy scare, who then tells Matty. He becomes upset that she didn't tell him first and he leaves.
Jenna feels that Matty has become distant after he found out about the pregnancy scare through Jake. Matty has been avoiding sex or physical contact with Jenna and tells her that they need to talk, which prompts her to get Tamara to arrange a group date 'BFGFBFF'. Matty is jealous of Jenna and Jake's easygoing friendship. Matty asks her about why it is easy to talk to Jake but not him. Jenna brought up how she thinks he is embarrassed of her, but he said he was never embarrassed of her. They make up and kiss.
Jenna's dad finds out that Jenna and Matty are sexually active and calls to inform his parents. The McKibbens come over for dinner and the moms have an arguments over their different parenting styles. Matty moves in after dispute with his parents.
Matty is enjoying living with Jenna while Jenna feels invaded and wants Matty to leave. When Matty and Jenna are watching porn together, she accidentally hurt Matty's feelings. At night she finds out that Matty is crying in the bathroom and Lacey has a talk with Matty, encouraging him to talk things out with his mom. Matty and Jenna make up and he goes back home the next day.
During homecoming pinnings, Jenna feels bad for single girls who don't have dates. Matty realizes that Jenna doesn't want to go to the dance because he doesn't like dancing. Jake later teaches Matty how to dance. Matty and Jenna then dance together in the parking lot.
Jenna sees that Collin stills flirts with her. She confronts him about it and he laughs. He invites her to a photography party for the photographer that she likes. Before entering the party her and Matty get into a fight, and he confesses to her that he in fact was embarrassed of her. In which upsets her and she tells him that he doesn't have to go to the party. So she goes alone. She meets Colin there, and he tells her the sexual tension is there. He drives her there, and she apologizes to him about his breakup with his girlfriend. They talk about her and she and Colin kiss. Matty walks out there but she already got out of the car.
3B
A Very Special Episode of Awkward
Season 4
4A
Jenna is caught masturbating by her parents and it isn't long until the news spreads. As senior year begins, Tamara takes her role as being student president too seriously, which leads to a rocky relationship with Jake. Jenna finds out that Matty is no longer with Bailey and that he has been single all summer. Ming has moved away to Vermont, but Jenna and Tamara are not slow in finding a new friend, Eva. Jenna and Matty hook up again.
Note: This is a special 1 hour episode.
Jenna must stay silent for 24 hours after sustaining a dental injury, but is desperate to talk to Matty, who she thinks has been avoiding her for something she did. As it turns out, Matty's behaviour had nothing to do with her, he has discovered a shocking secret. He was adopted.
Jenna and Matty become friends with benefits, and Matty tries to use sex to work through his feelings about being adopted. Jenna commits herself to the school's peer guidance program and tries to mentor a troubled freshman.
It's Spirit Week at Palos Hills High and the seniors are struggling to stay upbeat. Matty ignores Jenna in favor of hanging out with Eva and Sophomore Slut McKenzie. Sadie tries to convince Lissa to give up cheer captaincy by quoting the Bible. Tamara Catfishes Jake to keep tabs on him after their break up.
Jenna and Tamara pay an overnight visit to a college. Jenna meets Luke, an intellectual college boy, who helps her moves on from Matty. Lacey tries to recapture her missed youth. Sadie and Eva's rivalry is taken to a new level. Jake becomes obsessed with Tamara's fake profile. Sadie and Matty become closer friends but Eva catches them in an incriminating position.
Matty's becomes tired with his mother's obsession with perfection. Jake discovers Tamara has been lying to him. Jenna invites Luke to the Mr. PHHS pageant. Sadie makes a bet with Lissa that she can make Kyle Mr. PHHS. Matty reveals that he was adopted and his pregnancy scare with Jenna at the pageant, embarrassing her in front of Luke.
The gang heads to a concert. Jenna sets Matty up with Eva but realizes that she is still in love with him. Eva blackmails Sadie. Tamara runs into trouble and must call Jake for help. Sadie admits the truth and loses Austin. Matty and Jake are caught underage drinking and the two get arrested.
Matty and Jake spend a night in prison. Jenna and Tamara visit Luke at college. All Jenna wants to do is have fun, although she learns that Luke has to take his studies seriously. Sadie helps Matty and Jake and is furious at Eva. However, Matty forgives Eva. Tamara hooks up with a lesbian at college.
It's time for everyone to send in their college apps and Jenna and Tamara don't want to face the reality of separating once high school is over. Jenna helps Matty with his essay but Eva sabotages her. Meanwhile, Val gets a makeover from Lacey to impress a former crush at her high school reunion. Sadie, Lissa, and Jake run a food truck. Eva and Jenna finally have a standoff.
The Palos Hills High School seniors are going on their annual ski trip. Eva continues to antagonize Jenna. At the ski lodge, Jenna is surprised by Luke and must juggle her feelings for Luke and Matty. Sadie discovers that Eva's real name is Amber, she's been home-schooled since she was kicked out of school when she was nine for stabbing another kid with a pencil, and her room (in a home that's not even in the right district for Palos Hills High) is decorated with creepy, stalker bulletin boards of all of Jenna and Matty's friends. Sadie makes attempts to try to warn Matty about Eva's secrets.
Sadie tells Jenna about Eva's secrets and the two team up to finally get to the bottom of psycho liar Eva's real story, The truth about Eva is revealed but Eva claims to be pregnant and Matty refuses to leave her. Jenna tries to make amends with Luke, after leaving him out in the cold.
4B
Following the drama of the ski trip, Jenna decides it's best to spend her time focusing on her finals. Matty finds out Eva isn't pregnant and blackmails her so that she leaves PHHS, once and for all.
New Year's Day is approaching and Jenna wants to celebrate quietly, however things don't as planned when Matty turns their evening in to a group activity. Meanwhile, Sadie throws a major party to save New Year's Day. Jenna and Matty make a pact not to hook up with anyone. Meanwhile, Matty makes amends with his mom after finding her drunk at the party.
Personality
TBA
Physical Appearance
TBA
Relationships
Appearances
Season One (12/12)

Season Two (12/12)

Season Three (20/20)

Season Four (11/20)

TBA
TBA
TBA
TBA
TBA
TBA
TBA
TBA
TBA
Name
TBA
Trivia
TBA