Season 2 of Awkward premiered on June 28, 2012 and finished on September 20, 2012.
Plot
After the events of the Season 1, the second part of the school year begins. Now Jenna is on a relationship with Jake, but she and Matty decides not to tell him about their past relationship to don't hurt his feelings. Tamara tries to forget Ricky Schwartz after she discovers him kissing someone else, and Ming can't be on a relationship with the guy she likes (Fred Wu) because of the Asian Mafia. Also, after Jenna reveals to Lacey that she knows about she wrote the letter, Kevin find out since Lacey tell him to solve things with Jenna and both have a fight putting Kevin away. Jake tell Jenna that he loves her after a few weeks of their relationship, only to hear that Jenna's answer is "awesome". Ally back to tell Lacey and Jenna that she's getting married, and the surprise is that is with Sadie's Uncle. At the wedding, Sadie and Ricky are dating, and when Jake tries to make things better for Tamara Sadie end up telling him that Jenna and Matty dated before, just at the same time when Jenna tell Jake that she loves him. After find out that Matty and Jenna were dating, Jake and Matty ask Jenna to choose one of them.
Cast and Characters
Main Cast
Recurring Cast
Chapters
Chapter 1 - The Sabotage Chapter (Ep. 1-7) This chapter deals with Jenna Hamilton's new relationship with Jake Rosati, but Matty McKibben makes an attempt to ruin their relationship. Jenna's father also finds out about the care-frontation letter and leaves Lacey.
Chapter 2 - The Love Triangle Chapter (Ep. 8-12) This chapter deals with Jake and Matty making Jenna pick between them. Everyone finding out about Jenna's blog, who discover Lacey's care-frontation letter. In the end Jenna makes amends with her mother, her parents get back together, she picks Matty and Jake kisses Tamara.
Episode Guide
Resolutions
June 28, 2012
13
2.01

Jenna avoids dealing with the shocking season one revelation that her mom wrote the carefrontation letter by spreading some holiday cheer----until Jake's holiday gift forces her to decide if she's ready to leave her past with Matty behind for good. Jenna is yet again confronted with a choice: who should she ring in the New Year with?

Sex, Lies, and the Sanctuary
July 5, 2012
14
2.02

Finally official with Jake, Jenna is happy to flaunt her newsome twosome. That is until she hears about the hidden camera that's been filming the Sanctuary, aka Jenna and Matty's Hook Up Haven for months. Determined not to let the tape ruin her relationship, Jenna sets off on a mission to search and destroy the evidence, enlisting Ming and some new powerful allies to recover the tape..

Three's A Crowd
July 12, 2012
15
2.03

Trying to make nice with Matty and please Jake, Jenna struggles to ignore Matty's ongoing flirtatious efforts and clingy antics. But is he really in sabotage mode, or is she upsetting the balance of their bromance?..

Are You There God? It's Me, Jenna
July 19, 2012
16
2.04

Post her parents separation, Jenna feels responsible. In an impulsive effort to absolve herself, she seeks refuge from her problems in a higher power at... Church Camp.

My Love Is A Black Heart
July 26, 2012
17
2.05

Valentine''s Day has arrived and dividing the school between swooning lovers and jealous haters. As Jenna prepares to spend her first V-day with a boyfriend, will jealousy rear its ugly head for her and Tamara as they confront the possibility that their ex's are moving on without them?

What Comes First: Sex Or Love?
August 2, 2012
18
2.06

Still reeling from Jake's proclamation of love, Jenna tries to figure out if having sex with Jake will bring her some clarity about her own feelings.

Another One Bites The Dust
August 9, 2011
19
2.07

Aunt Ally is getting married and the "Lil' Bitch" is a reluctant participant in the wedding party. Now clear on her feelings for Jake, Jenna is determined to finally do the deed. But will dealing with a man from her mother's past, an out of control bridezilla, and a scheming Sadie put a damper on her plans?

Time After Time
August 16, 2012
20
2.08

A series of bad timing and revelations leave Jenna and Jake both devastated.

Homewrecker Hamilton
August 23, 2012
21
2.09

Haunted by her break-up and make-up with the boys, Jenna privately struggles with how to untangle her twisted love life until.... an unexpected text brings all her drama to the spotlight.

Pick Me, Choose Me, Love Me
August 30, 2011
22
2.10
Jenna deals with the aftermath of publicizing her blog and is forced to choose between Jake and Matty.
Once Upon A Blog
September 13, 2012
23
2.11
Jenna fictionalizes her blog in an attempt to change her fate. By the end of the episode she changes her blog to private again, and figures out who she wants to be with.
The Other Shoe
September 20, 2012
24
2.12
Jenna prepares for her trip to Europe while her decision about the boys goes public in the Season 2 finale. She chooses Matty then Jake and Tamara make-out. Ricky is seen kissing a guy, and Jenna has mixed feelings over whether she made the right choice or not.
DVD Release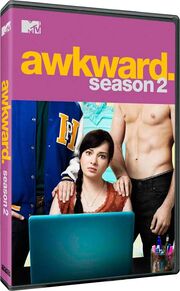 Awkward: Season 2 was released on DVD in the United States, Canada, Bermuda, and U.S. territories on October 16, 2012. The two disc set contains all 12 episodes of season two as well as special features like the first season.