Tamara Kaplan

Full name:
Tamara Judith Kaplan
Alias:
Tiny Tiger, T, My girl, Beautiful, Gorgeous, Babe, Skitch, Ginger skank, Ironfist, Ginger Smurf, Autumn (Catfish Name)
Gender:
Female
Age:
16-18
Occupation:
Student at Palos Hills High School
Titan Cheerleader
School President at Palos Hills High School
Relatives:
Tamara Kaplan (Mother)

Unnamed Uncle

Friends:
Jenna Hamilton (best friend forever)
Ming Huang (best friend)
Matty McKibben
Jake Rosati
Luke
Shane
Valerie Marks
Lacey Hamilton
Sadie Saxton (best friend)

Relationships:
Jake Rosati (ex-boyfriend)
Ricky Schwartz (ex-boyfriend, deceased)
Niall Horan (celebrity crush)
Shayne (fling)
Adam Walker (ex-fiancée/ex-boyfriend)
Owen (hook-up)
Kyle Cohen (hook-up)
Patrick (boyfriend)
Enemies:
Collin Jennings
Ricky Schwartz (deceased)
Amber Horn
Ally
Portrayed by:
Jillian Rose Reed
First Appearance:
Pilot
Tamara Judith Kaplan is the out-going and talkative best friend of Ming Huang and Jenna Hamilton. Tamara is a main character of Awkward. She is also the ex-girlfriend of Jake Rosati, and has started to catfish him, but this changes after he finds out, but they remain friends.
Throughout the beginning of series, Tamara begins an on-and-off relationship with Ricky Schwartz, until she caught him making out with an unknown girl during the school's assembly. She also caught him making out with Sadie Saxton, the school's mean girl and during his memorial party, she confessed her feelings towards him claiming that she hates him.
She also currently attends Palos Hills High School, where she is a now cheerleader and Lissa Miller's replacement after she broke her neck. Also she is currently school president after she campaigned against her then-boyfriend, Jake.
She is played by Jillian Rose Reed.
Early life
Not much is known about Tamara, other than the fact that she has been best friends with Jenna Hamilton and Ming Huang, since childhood. She also mentioned that her mother is a hoarderer and that her uncle touches her shoulder "inappropriately"
Season 1
She has an on-again-off-again relationship with Ricky Schwartz, which has caused her to behave irrationally in the past. When Jenna accidentally kisses Ricky at a party, Tamara ends their friendship by claiming that she was the one who wrote the care-frontation letter. She quickly realizes that Jenna was not responsible for her actions that night, and the two reconcile. During the season one finale, Tamara ends her relationship with Ricky after finding out that he asked three other girls to the winter formal before her. They get back together at the dance when Ricky quotes a Missed-Connections ad that he placed for her.
Season 2
Tamara and Ricky are together, but she breaks up with him once again when she catches him kissing another girl during a school assembly. She spends the rest of the season trying to get over him, despite that fact that he has started dating Sadie. In the second season finale, she makes out with Jake because she is upset over how bad the past year has been for her.
Season 3
Tamara and Jake are now a couple. Tamara replaces Lissa on the cheerleading team after she gets into a cheer accident. She beats Jake for class president.
Season 4
Tamara and Jake break up. She catfishes him by making an account under the alias Autumn, an Australian girl who listens to Jake's music and thinks he's cute. While accompanying Jenna to see Luke, she mouths off Luke's best friend, who who happens to be a lesbian. Tamara and Luke's friend get along well by painting nails, and end up kissing and hooking up. 
Physical Appearance
Physically, Tamara is a beautiful young woman with pale skin, dark brown eyes and long dark red hair.
In Season 3, her hair is slightly shorter and a ligher red, but as of the episode, Surprise!, she has dyed her hair back to dark red.
Personality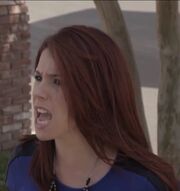 Tamara is the out-going, fast-talking chatty best friend of Jenna Hamilton, who prefers to use text slang over full sentences. Despite being chatty, she is down-to-earth and kind, but also very determined and somewhat high maintenance.
Although, she can also be shown to be a protective friend of Jenna, and because of this she is willing to give up tiny secrets to keep Jenna's biggest secret. 
She can be shown to be slightly violent to Ricky Schwartz and Collin Jennings, for example: punching Collin in the face, because he "stole her best friend." This caused her to spraine her hand. 
She can also be shown to be quite ditzy and easily paranoid.
Relationships
Trivia
She created a voodoo doll for Ricky Schwartz, which made her believe she killed him.
Her friends only know when there is something wrong with her when she is less communicative.
She could have a history of family mental illness.
She was the first senior that is/was engaged.